We have another cold morning with clear skies.   The temperature at 6 am is 26°.  We will continue with mainly clear skies today with temperatures near the 50° mark.  Yesterday we reached 50° and the morning low was 23°.
Michigan got by Maryland yesterday with their closest game of the year (31 to 24).  Now the stage is set for Ohio State at the Big House.
---
A ridge of high pressure will provide the region with mainly clear skies through today. Clouds will increase on Monday ahead of the next storm system. Rain will overspread the area on Tuesday as low pressure tracks up the Ohio Valley.
---
Forecast
Today
Sunny, with a high near 49. Northwest wind 5 to 8 mph becoming north-northeast in the morning.
Tonight
Increasing clouds, with a low of around 31. Light east-northeast wind becoming east at 5 to 9 mph in the evening.
Monday
Mostly cloudy, with a high near 44. East wind 10 to 16 mph, with gusts as high as 24 mph.
Monday Night
Showers, mainly after 1 am. Low around 36. East wind 15 to 17 mph, with gusts as high as 26 mph. The chance of precipitation is 90%. New precipitation amounts between a tenth and a quarter of an inch possible.
Tuesday
Showers. High near 45. East wind 10 to 14 mph becoming northwest in the afternoon. The chance of precipitation is 90%.
Tuesday Night
A 40 percent chance of showers before 1 am. Mostly cloudy, with a low of around 30. Blustery.
Wednesday
Partly sunny, with a high near 40.
Wednesday Night
Partly cloudy, with a low around 28.
Thanksgiving Day
Mostly sunny, with a high near 43.
Thursday Night
Mostly cloudy, with a low around 26.
Friday
Mostly cloudy, with a high near 39.
Friday Night
A chance of rain and snow showers. Mostly cloudy, with a low of around 29.
Saturday
A chance of rain and snow showers. Mostly cloudy, with a high near 39.
---
Weather History for Southwest Michigan
1930: Record late-season warmth was across Lower Michigan with highs of 74 degrees at Grand Rapids and Lansing.
---
Weather History for SE Michigan
On November 19, 1953, this started a two-day streak of record highs in Flint with a temperature of 70 degrees on the 19th and 68 degrees on the 20th.
---
U.S.A and Global Events for November 19th:
1921: The Columbia Gorge ice storm finally came to an end. In Oregon, 54 inches of snow, sleet, and glaze blocked the Columbia River Highway at The Dalles. Apart from traffic on the river itself, all transportation between Walla Walla WA, and Portland, OR came to a halt. Nine trains were stopped as railroads were blocked for several days.
1930: A rare, estimated F4 tornado struck the town of Bethany, Oklahoma. Between 9:30 am and 9:58 am CST, it moved north-northeast from 3 miles west of the Oklahoma City limits and hit the eastern part of Bethany. About 110 homes and 700 other buildings, or about a fourth of the town, were damaged or destroyed. Near the end of the damage path, 3.5 miles northeast of Wiley Post Airfield, the tornado hit the Camel Creek School. Buildings blew apart just as the students were falling to the floor and looking for shelter, and five students and a teacher were killed. A total of 23 people were killed and another 150 injured, with 77 being seriously injured. Damage estimates were listed at $500,000. Click HERE for more pictures from KOCO.com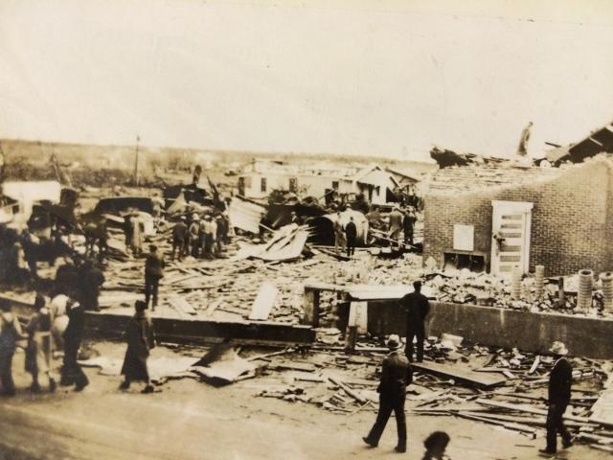 Above is tornado damage in Bethany, Oklahoma. The image is courtesy of KOCO in Oklahoma City.
---
Forecast Discussion
- Clear today and tonight

Surface analysis shows a weak cold front moving across the lake
early this morning. High pressure will quickly build in behind it
resulting in clear skies today and tonight. Recent IR loop shows
much of the upper Midwest devoid of clouds early this morning.

Highs today will range from the mid 40s near US-10 to lower 50s
south of I-94. Temperatures will fall into the 20s overnight
tonight.

- Increasing clouds Monday

Low pressure approaching from the Red River Valley will spread
clouds and rain toward Lower Michigan Monday. We`ll see clouds
increase during the late morning and especially the afternoon, but
models indicate that rain won`t move over the cwa until Monday
night.

- Risk for mixed precipitation late Mon Night

Low temperatures Monday night are projected to make a run at
freezing for the northeast parts of the CWA.  This would include Big
Rapids, Mount Pleasant, Evart and Harrison.  Precipitation will be
spreading in later at night which may support a window of mixed
precipitation.  Ensemble forecasts also show some members with near
or even below freezing temperatures.  The deterministic 00z GEM and
ECMWF show some measurable freezing rain.  The GFS suggests it will
be slightly too warm.  SPC HREF does not go out far enough at this
time.   We will keep the freezing rain out of the forecast for now
but may need to shift gears if these models continue to show the
risk and/or the 12z HREF shows the potential as well.

- Temperatures trended up for Thanksgiving Day

Ensemble temperature forecasts from the ECMWF, GEM and GFS all show
a decent jump in the max temperature for Thanksgiving Day from
previous runs. Looks like most locations will see high temperatures
topping out in the 40s.  We will bump up our max temperatures based
on the ensemble trends.

- Cold Stretch for next weekend

The upper jet shifts down towards the Gulf Coast for Friday into
Sunday. Surface low will be situated up over Hudson Bay and it will
be funneling colder air down from the north into MI. Ensemble
temperature trends are colder. As a result the potential for a
much colder than normal period is looking more likely with time.
It`s too early to say if we will see accumulating snow, but
temperatures will be supportive. We will keep the cold forecast
going as a result.