The Wolverines won their 1000th victory and go 11 and 0 for the season.  The Lions, yes the Lions are now 8 and 2, their best start since 1962 with a victory over the Bears.  What an exciting final four minutes at Ford Stadium coming from behind with two touchdowns.  It is a great year to be a Lions fan!
---
Clouds will thicken up today as low-pressure heads in our direction. Rain will overspread the area on Tuesday as low pressure tracks up the Ohio Valley. Parts of interior Lower Michigan may see a brief period of freezing rain Tuesday morning.  Yesterday's high was 53° after a morning low of 25°.
---
Forecast
Today
Mostly cloudy, with a high near 44. East wind 10 to 16 mph, with gusts as high as 24 mph.
Tonight
Showers, mainly after 2 am. Low around 37. East wind 14 to 18 mph, with gusts as high as 29 mph. The chance of precipitation is 80%. New precipitation amounts between a tenth and a quarter of an inch possible.
Tuesday
Showers. High near 44. East wind 10 to 14 mph becoming north in the afternoon. The chance of precipitation is 90%. New precipitation amounts between a half and three-quarters of an inch possible.
Tuesday Night
A 20 percent chance of showers before 1 am. Mostly cloudy, with a low of around 32. Northwest wind 10 to 14 mph.
Wednesday
Mostly sunny, with a high near 44. North northwest wind 7 to 10 mph becoming west in the afternoon.
Wednesday Night
Mostly clear, with a low around 32.
Thanksgiving Day
Mostly sunny, with a high near 47.
Thursday Night
Mostly cloudy, with a low of around 25.
Friday
Mostly cloudy, with a high near 38.
Friday Night
Mostly cloudy, with a low of around 25.
Saturday
Mostly cloudy, with a high near 38.
Saturday Night
Mostly cloudy, with a low around 26.
Sunday
Mostly cloudy, with a high near 37.
---
Weather History for Southwest Michigan
1869: More than a foot of snow fell at Lansing, setting a record for the most ever recorded during the month of November.
2000: An intense lake effect snow squall dropped almost a foot of snow on Grand Rapids, setting a record for the most snow on a November day there.
---
Weather History for SE Michigan
On November 20, 1957, an F3 tornado hit Wayne County at 6:50 pm resulting in 12 injuries and 1 death and costing $250,000 in damages.
---
U.S.A and Global Events for November 20th:
1900: An unusual tornado outbreak in the Lower Mississippi Valley resulted in 73 deaths and extensive damage across Arkansas, Mississippi, and Tennessee.

The clipping above is from the Climatological Data Publications for the state of Mississippi in November 1900.
1985: Kate intensified to a major Category 3 Hurricane as she moved west of Key West, Florida with top winds of 115 mph and a minimum central pressure of 954 millibars or 28.17 inches of mercury. The next day Kate made landfall between Panama City and Apalachicola, Florida. Tides ran 8 to 10 feet above normal. Many power poles and lines were downed. Several roads were washed out.
Hurricane Kate from NOAA 9 on November 20, 1985.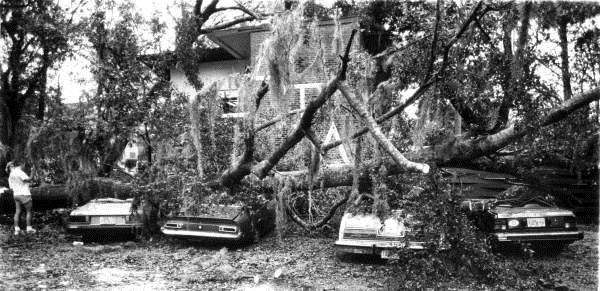 Credit this photo: State Archives of Florida, Florida Memory, https://floridamemory.com/items/show/14095  Members of Florida State's Delta Tau Delta fraternity had a difficult time getting to their cars following Hurricane Kate's visit to the capital city.
2014: From the NWS Office in Buffalo, New York, "The epic November 17-19th 2014 lake effect event will be remembered as one of the most significant winter events in Buffalo's snowy history.  Over 5 feet of snow fell over areas just east of Buffalo, with mere inches a few miles away to the north.   There were 13 fatalities with this storm, hundreds of major roof collapses and structural failures, 1000s of stranded motorists, and scattered food and gas shortages due to impassable roads.  Numerous trees also gave way due to the weight of the snow, causing isolated power outages.  While this storm was impressive on its own, a second lake effect event on Nov-19-20 dropped another 1-4 feet of snow over nearly the same area and compounded rescue and recovery efforts.  Storm totals from the two storms peaked at almost 7 feet, with many areas buried under 3-4 feet of dense snowpack by the end of the event." Click HERE for more information. Click HERE for photos from Syracuse.com
2015: The season's first snow is Chicago's largest November snowfall in 120 years starting on November 20 and ending on the 21st. The season's first snowfall dropped as much as 17 inches across Chicago's northern suburbs, and the total of 11.2 inches at O'Hare International Airport made it the largest November snowfall in 120 years. Click HERE for more information from the NWS Office in Chicago.
---
Forecast Discussion
- Increasing clouds today

IR loop shows mid/high clouds moving over Lower MI from the
southwest ahead of a developing low in Oklahoma. We`ll see
filtered sunshine this morning giving way to mostly cloudy skies
this afternoon as the low moves northeast toward Lower MI.

- Rain developing tonight, freezing rain possible central

Short range models, including ensemble members are in agreement
that we`ll see rain develop this evening from southwest to
northeast. Strong pressure advection on the isentropic surfaces
ahead of the low will send condensation pressure deficits falling
to 10mb by late evening. As the rain encounters some surface
temperatures around freezing across the central cwa, freezing rain
will become possible. The most likely time frame to see freezing
rain would be from 2am-6am generally north of I-96 and east of
US-131. Warmer air will also be advecting northward, so any
impacts will be limited. Not all of the models are in agreement
with the freezing rain, but the scenario seems plausible given the
east wind near the surface advecting in colder temperatures from
Ontario. Given the limited duration and medium confidence, we`ll
hold off on a headline.

- Rainy Tuesday, perhaps mixed with some snow north

The surface low and trailing upper trough will pass over the cwa
Tuesday. All of the ECMWF ensemble members show rain with a couple
over an inch; mean QPF is around 0.75. Any lingering storm drains
that haven`t been cleared of leaves could see some roadway
ponding. Once the low moves by colder air will begin to advect
southward and it`s possible we could see some mixed rain and snow
over interior portions of the northern cwa Tuesday afternoon.

- Dissipating showers Tuesday night

The moisture depth decreases below the DGZ Tuesday evening as the
wave of low pressure pulls east of the area.  Any remaining showers
will quickly dissipate.  With temperatures expected to fall below
freezing, a few icy spots may form toward daybreak Wednesday.

- Dry for Wednesday and Thanksgiving Day

A broad but deeper ridge builds into the area Wednesday and advances
east of MI Thanksgiving Day. Subsidence associated with this feature
will act to keep the weather dry.  A backdoor cold front does drop
in from the north later Thanksgiving Day. Any moisture will be
shallow and not supportive of precipitation.  This feature could
play a role in how high the temperatures go for the holiday.  If the
feature arrives by noon, we may struggle to reach the mid 40`s.  If
it holds off until evening, we could make a run at 50 degrees.

- Cooling trend starting Friday, Light possible Snow Sunday or
  Monday

The low level winds will feature a northerly component through the
period.  This will draw down a colder Canadian airmass.  Thus we
will be heading toward a period of colder than normal temperatures.
The thermal profile will become cold enough for lake effect, so we
could see some light precipitation trying to develop Friday night
into Saturday. However, at this time, the potential for
measurable QPF looks low as the moisture remains shallow and flow
mostly unfavorable. A better chance exists on Sunday or Monday.
Several models like the ECMWF and GFS are showing a mid level wave
arriving from the southwest. The moisture deepens up and the
column temperatures support snow. Ensemble forecasts still feature
a lot of spread with the snowfall so confidence is still somewhat
low at this time.