Unofficially considered the start of summer, Memorial Day weekend often is celebrated with gatherings and barbecues, cookouts, and even long-weekend getaways. But Memorial Day is meant to be a day of tribute – not to grills and beers – but to honor the dead. Specifically, those who died while serving in the U.S. military.
American war deaths have varied dramatically, depending on the war they were volunteering (or being drafted) to fight. Some fell to the enemy, many more fell to disease. Since the Revolutionary War, 646,596 American troops have died in battle and more than 539,000 died from other, non-combat related causes.
---
A warming trend into the mid-upper 80s and even a chance at 90 degrees is expected for this week. The chances for rain will be limited to a few days with hit-or-miss showers. Temperatures will usually be much cooler at the Lake Michigan beaches, where the water is still in the 50s.
We may see a cooling trend next week but the outlook for rain looks to be meager.
---
U.S.A and Global Events for May 29th:
1947: An unprecedented late-spring snowstorm blasts portions of the Midwest from eastern Wyoming to eastern Upper Michigan. The heavy snow caused severe damage to power and telephone lines and the already-leafed-out vegetation. (see below)
1982: Two significant tornadoes ripped through southern Illinois. The most severe was an F4 that touched down northeast of Carbondale, Illinois then moved to Marion. The twister had multiple vortices within the main funnel. Extensive damage occurred at the Marion Airport. A total of 10 people were killed, and 181 were injured. 648 homes and 200 cars were damaged or destroyed, with total damages around $100 million.
1986: Hailstones over 3 inches in diameter pounded South Shore in Montreal, Quebec Canada causing over $65 million in damage.
---
The Nearly Forgotten Snow Storm
of May 27-29, 1947
Jeff Boyne, NWS La Crosse Climate Services Focal Point
Through the years, this late season snow storm has been purged from memories of many people in northeast Iowa, southeast Minnesota, and western Wisconsin. Maybe it is that people do not want to think about snow in late May or that the snow quickly melted, but very few remember this storm. If it was not for this author stumbling upon a 9 inch snow amount in Viroqua, Wisconsin this reminder that snow storms can occur this late in the spring in the Upper Mississippi Valley may have never been written.
On the morning of May 27, 1947, a developing low pressure system was located over central Nevada. It was this low which would be responsible for the snow storm over the Central Plains, Upper Mississippi Valley, and Upper Michigan from May 27th through May 29th. A strong arctic high pressure system was located over the Mackenzie Basin in northwest Canada. This high would provide the cold air needed for a winter storm to develop. A mixture of rain and snow developed over Colorado and Wyoming during the day on May 27th and changed to all snow during the night as the low deepened and moved slowly east through southern Colorado.
On the morning of the 28th, the high pressure center had moved rapidly south to southern Saskatchewan. This high pressure area brought unprecedented cold for late May to North Dakota. Temperatures fell to as low as 15°F at Eckman, which is located near the Canadian border. In addition, the mercury fell to 23°F at Bismarck which is the lowest ever recorded there after May 20th. Meanwhile, below freezing temperatures were found across Montana, Wyoming, northeastern Colorado, western Nebraska, northern Minnesota, and western South Dakota. The sub freezing temperatures caused a partial to total loss of fruits and tender plants. During the day, this cold air surged southward across eastern Nebraska, eastern South Dakota, Iowa, southern Minnesota, and Wisconsin. Many cold maximum temperatures were established across the region for the day.
At the same time this was occurring, the area of low pressure was continuing to strengthen as it moved east through southern Kansas. From the evening of the 27th through the 28th, this low produced a 6-12″ snow band from southeast Wyoming east across northern Nebraska into northwest Iowa. The heaviest snow in this band was found in Alliance and Harrison, Nebraska where 12″ had fallen. The weight from the heavy wet snow caused considerable damage to power lines, telephone lines, telegraph lines, trees, and shrubs.
During the late afternoon and evening of May 28th, the surface low began to move northeast across northern Missouri, northwest Illinois, and southeast Wisconsin. The reason for this change in direction was due to a strong upper level disturbance that had dropped into the base of the upper level trough over Nebraska during the day. This upper level disturbance caused an amplification of the upper level ridge over the Ohio Valley and much of New England. As a result, temperatures in this region climbed into the 80s instead of the 50s and 60s which were seen the day before. However on the cold side of the system, temperatures remained in the 30s and 40s in the Upper Mississippi Valley. In addition to the cold temperatures, rain changed to snow across southern Minnesota, northeast Iowa, and across much of Wisconsin. This was the latest snow ever reported in a season in this area, with some places experiencing their biggest May snow storm on record.
From the late afternoon of the 28th into the early morning hours of the 29th, 7-10″ of snow fell across Allamakee County in northeast Iowa, and Vernon, Crawford, southern Monroe, and Richland Counties in southwest Wisconsin. The heaviest snowfall amount was 10″ in Gays Mills, WI. Meanwhile, a 7-9″ band of snow fell across northern Adams, Waushara, Winnebago, Outagamie, and Waupaca Counties in central and east central Wisconsin. The weight of the heavy snow caused severe damage to power lines, telephone lines, bushes, and trees.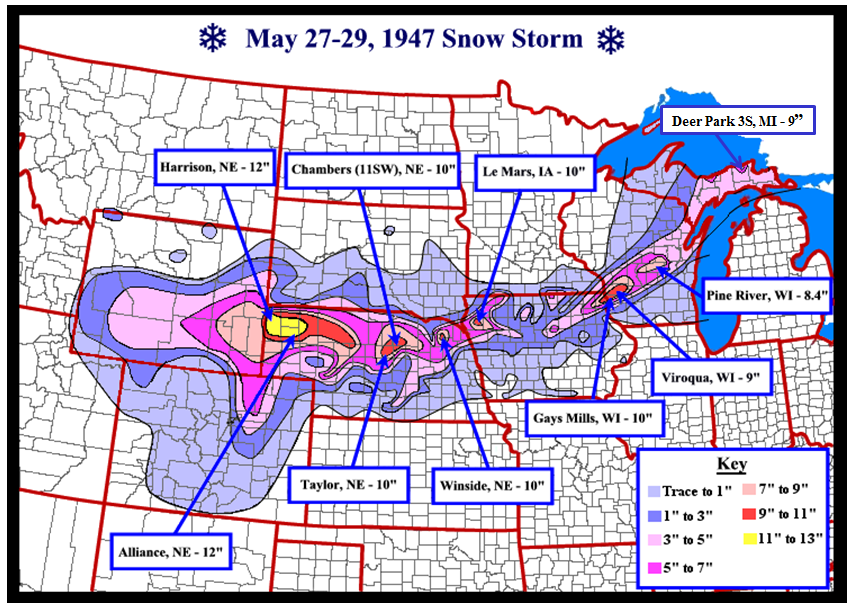 The following table, provides some snowfall totals for southeast Minnesota, northeast Iowa, and western Wisconsin.
| | | | |
| --- | --- | --- | --- |
| Region | Location | County | Total Snow |
| Northeast Iowa | Waukon | Allamakee | 7.5″ |
| | Mason City | Cerro Gordo | 4.5″ |
| | New Hampton 1E | Chickasaw | 4.0″ |
| | Decorah | Winneshiek | 3.2″ |
| | Mason City Airport | Cerro Gordo | 1.5″ |
| | Osage | Mitchell | 1.5″ |
| | Cresco 1NE | Howard | 1.0″ |
| Southeast Minnesota | Spring Grove | Houston | 2.6″ |
| | Harmony | Fillmore | 1.0″ |
| | Albert Lea | Freeborn | 0.1″ |
| | Austin | Mower | Trace |
| | Grand Meadow | Mower | Trace |
| | Rochester | Olmsted | Trace |
| | St Charles | Olmsted | Trace |
| | Winona | Winona | Trace |
| | Zumbrota | Goodhue | Trace |
| Western Wisconsin | Gays Mills | Crawford | 10.0″ |
| | Viroqua | Vernon | 9.0″ |
| | Hillsboro | Vernon | 6.6″ |
| | Mather 7.5NE | Juneau | 5.0″ |
| | Sparta | Monroe | 4.0″ |
| | Tomah | Monroe | 4.0″ |
| | La Crosse – Grandad Bluff | La Crosse | 2″ to 3″ |
| | West Salem | La Crosse | 2.8″ |
| | Meadow Valley | Juneau | 2.0″ |
| | Prairie du Chien | Crawford | 2.0″ |
| | Richland Center | Richland | 1.5″ |
| | Lancaster 0.5NE | Grant | 0.8″ |
| | La Crosse Airport | La Crosse | 0.2″ |
---
Forecast Discussion
.SHORT TERM...(Today through Tuesday)
Issued at 246 AM EDT Mon May 29 2023

The high pressure system over northern parts of MI continues to
weaken. The low level flow veers from east to south southeast into
Tuesday. This will support some warm air advection. Very dry
humidity profiles show up on Bufkit from the various models. The
DGZ remains unsaturated and subsidence is seen through much of the
atmosphere.  Any upper level RH, dries out early today and
satellite imagery trends confirm that. Thus we will see stronger
sun today and that alone will support higher temperatures. We will
bump high temperatures up today into the low to mid 80`s for most
locations away from the lakeshore. The temperature at 850 mb is
progged climb into the 15 to 16 deg C range for Tuesday, which
would allow high temps into the upper 80`s. These values are
supported by the ensemble forecasts as well.

As for precipitation, while we will see lake breezes developing
each day, the moisture remains limited. The lift along the lake
breeze Tuesday afternoon is slightly stronger than the past couple
of days. Several ensemble members from each model suggest a small
chance for a shower Tuesday afternoon but most members keep it
dry, which is what we will forecast.

.LONG TERM...(Tuesday night through Sunday)
Issued at 246 AM EDT Mon May 29 2023

The pattern mid to late week will continue some semblance of a Rex
block across the eastern CONUS. The upper level high is expected to
retrograde from east of the Great Lakes midweek to west of the Great
Lakes late in the week. Weak southeasterly flow in the lower levels
over Lower Michigan will keep warmer-than-normal and fairly dry air
in the area until a backdoor cold front arrives at some point over
the weekend or early next week, given an anticipated amplifying
trough over Quebec.

Some changes in the ECMWF and CMC ensembles since yesterday include
higher confidence in the heat extending at least through Friday (and
Friday might be the hottest day) while less clarity remains on the
arrival date or significance of the backdoor cold front sometime
between Saturday and Monday. There has also been an increase in
ensemble members producing measurable rain Wed afternoon, as a plume
of higher moisture from the Carolina low may drift over western
Lower Michigan and better support isolated showers developing in the
vicinity of the lake breeze. Kept PoPs lower than NBM though. GFS
and its ensemble continue to show higher afternoon surface dew
points through late week (believe it is unrealistically high) and
this may be contributing to higher cloud cover, CAPE, and
precipitation chances and lower temperatures compared to the the EC
and CMC ensembles.

Having a 90 degree temperature occur prior to June 5 is not too
common in the record of daily weather obs going back about 130
years at Grand Rapids, Lansing, Kalamazoo, and Battle Creek. Only
about 25 percent of years or fewer can claim this distinction. One
silver lining for human health this time is the dew points and
nighttime low temperatures should be relatively comfortable compared
to some other summer heat waves, which will help reduce the multi-
day accumulation of heat stress. But this dry early summer heat will
nonetheless put additional strain on agriculture and wildland fire
management.