This is the day one outlook from the SPC, it is linked back the the SPC site so it should update if it changes.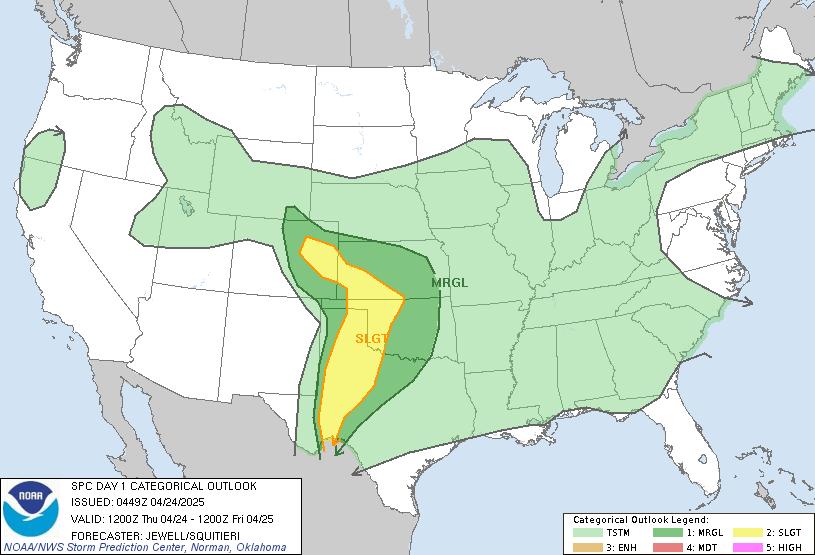 It shows we are in the marginal risk for storm activity.  Marginal, Slight, Enhanced, Moderate, and High risks represent progressively larger threats for organized severe storm episodes. These risks, along with their numerical, abbreviated labels, and colors (1-MRGL-dark green, 2-SLGT-yellow, 3-ENH-orange, 4-MDT-red, 5-HIGH-magenta), are based directly on the numerical probabilities of severe weather that are provided with every outlook.
For Day 1, the percentage lines provide the chance that the given type of severe weather (tornado, hail, or damaging thunderstorm wind) will happen within about 25 miles of a point. For Day 2 and Day 3, (not shown) the probabilities cover all severe storm hazards together.
Though severe storms tend to receive a large amount of media coverage, severe weather is uncommon at any one location. Your chance of getting a tornado on any random day are very small, climatologically speaking. Put in that context, even a 10% chance of a tornado within 25 miles of a point means a much bigger threat than usual, and should be taken seriously. Think of how often tornadoes normally happen close to you on any given day, and those small-looking probabilities start to seem large by comparison!
A severe thunderstorm refers to a thunderstorm producing hail that is at least 1 inch in diameter or larger, and/or wind gusts of 58 mph or greater, and/or a tornado. Although lightning can be deadly, the NWS doesn't use it to define a severe thunderstorm. If it did, every thunderstorm would be severe, by definition. Also, excessive rainfall may lead to deadly flash flooding, but heavy rain is not a severe criterion either. The flood threat is handled through a separate set of watches and warnings from your local NWS office.
A significant severe thunderstorm refers to a thunderstorm producing hail that is at least 2 inches in diameter or larger, and/or wind gusts of 75 mph or greater, and/or a tornado that produces EF2 or greater damage.
We refer to organized severe storms as those which persist for several hours, are capable of multiple and/or significant severe weather events, and which we are able to forecast consistently. Organized severe storms tend to form in areas where the vertical wind shear is relatively strong and has particular characteristics, while non-organized severe storms are most common when vertical wind shear is weak. The most long-lived, intense tornadoes and largest hail are usually produced by supercell thunderstorms, while the most serious convective wind storms are produced by bow echoes.
---
We will see hot and humid conditions today through Tuesday with chances of several round of storms – the main threat should be north of I96.  The best chances for severe weather for SW Michigan will be Tuesday as a cold front begins to push into the area.  Temps through the period will be in the mid 80s to 90 degrees with dew points in the 60s to near 70.  So, after a couple days with the windows open it will be time for the air conditioners to power back up.
---
446 total views, 1 views today